Sons of The American Legion National Headquarters.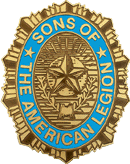 The American Legion

Click on Picture to visit our National Headquarters.
Sons of The American Legion
David Tuck

COMMANDER

On behalf of the Officers and Members of J. Thompson Wyatt American Legion Squadron 2 Petersburg, it is a pleasure to WELCOME you to our webpage.

If we can be of service to you, do not hesitate to call upon us.

For God and Country,

David Tuck

Welcome to our web site!

On this home page we'll introduce our organization and highlight important areas on our site.
Our Board of Officers WELCOME YOU.
1st Vice Commander Mike Taylor, Commander David Tuck, 2nd Vice Cdr Keith Dillenbeck, Historian Herman T. Burgess, Adjutant David Moore, Finance Officer Bryan Marsh
Not pictured:
Chaplain Todd Schaaf, Membership Chairman Jeff Skeens, SGT at Arms Raymond Marsh.
We invite you to visit us or attend an event. Our members are more than happy to answer any questions you may have about the organization and how you can join.